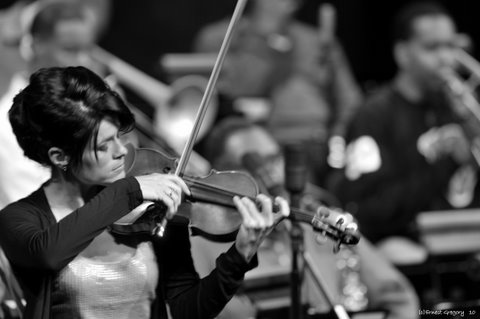 I am delighted to announce my collaboration with violinist Nathalie Bonin. Here is a short bio
Very active on the local and international scene in various styles, Nathalie was guest soloist with Wynton Marsalis and the Jazz at Lincoln Center Orchestra for 3 concerts celebrating the release of the album "Portrait in Seven Shades" at the prestigious Rose Theater of the JALC in New York. Member of the New York based Jazz quintet: Ted Nash and ODEON since 2005, Nathalie was guest soloist of the Société de Musique Contemporaine du Québec (SMCQ) directed by Walter Boudreau, Concertmaster for the Ensemble Contemporain de Montréal for their West Canada Tour in 2007, and plays regularly as section violinist in the Orchestre Métropolitain and l'Opéra de Montréal since 1993.  Asides from her numerous contributions as soloist in contemporary, jazz, tango and world music ensembles, Nathalie has also performed or recorded with: Stevie Wonder, Peter Cetera, YES, Luciano Pavarotti, Charles Aznavour, Gino Vannelli, Salvatore Adamo, Bran Van 3000, Moist, Gage, Nanette Workman, Cirque du Soleil and Cirque Éloize to name a few.
Our collaboration will focus on Transmutation to begin with, where we will be exploring advanced extended techniques as well as microtonics. I am looking forward to working with her.